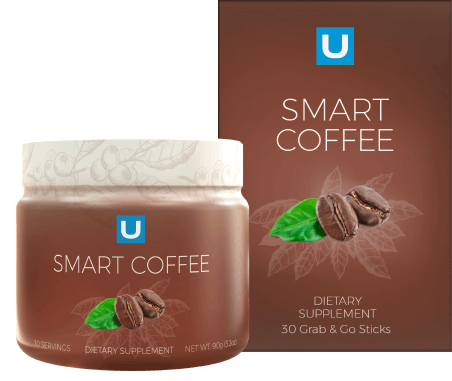 Smart Coffee Tub (30 Servings)
To energize you from within.*
One scoop/stick of Smart Coffee can curb your appetite, boost your energy, and help you stay focused.*
Buy More. Save More!
Add to your order and SAVE up to 30%!

Add To Cart
Our ingredients are backed by science.
We have tapped into the most recent advances in nutritional science to create a proprietary blend of ingredients that form the core of our products.*
Fast Facts
Ingredient Information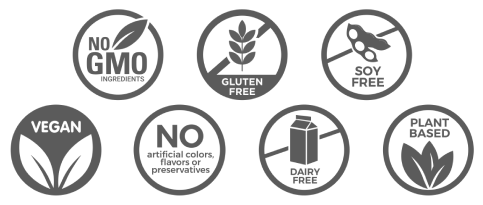 Beth H.
"It brings me a mood enhancement and curbs my hunger, it's been all around an awesome product to incorporate!"
Laura F.
"I'm so much more confident in myself, I have more energy, and my cravings have been diminished. I'm so thankful to RevitalU and the awesome products - I now recommend them to everyone."
Anita C.
"I feel so much happier and healthier! I'm running 5k 3 times a week, and I'm loving it. "
Bailee H.
"My go to is the Smart Coffee and Slim Tea!! I am down 24 lbs total. I have been using the products since April 2019!"
Clare H.
"I feel amazing when I've had my Smart Coffee! I'm starting to like the way I look, something I've not felt in years!"
Montana D.
"Smart Coffee is my go to coffee in the morning. It gives me a little extra energy to kickstart the day!"
Ebony M.
"The Smart Coffee boosted my energy and helped me stay focused."
Anita G.
"I have all-day energy with the Smart Coffee!"
Bobbi W.
"Smart Coffee gives me that focus and extra energy to get things done!"
Jenn L.
"I started drinking the Smart Coffee Sept 2018. I went from a size 13 to a size 0 (Jan 2020). Energy is up and inches are gone! "
Mary P.
"Last summer June 2019, I weighed 160 pounds and I felt very self conscious about my appearance. I felt tired, foggy, and like I didn't have enough energy, or time in my day to get things done. Here I am today June 2020, down 38 pounds, thanks to Smart Coffee!!"
Staci S.
"I took a chance to try samples. After the samples I bought the Smart Coffee and Cocoa bundles. I found a change in myself, in my mood and attitude. Thank you Revital U!"
Araseli V.
"June 2018 was the beginning of a new me! I don't regret one bit of it other then not starting sooner. I was the biggest skeptic out there! By August 2018 I had lost 30 pounds and I couldn't believe it! I love my Smart Coffee! Here I am, September 2019, with a total of 36 pounds down and maintaining! Thanks RevitalU! "
Megan H.
"I have loads of energy, which gets me moving in the mornings. My appetite has changed so much! Cheers to Revital U and helping me look better and feel better. "
Hailee L.
"I joined RevitalU March 31, 2019. I was struggling with my weight and had no energy. I have lost around 20 pounds in total. I have the energy and focus to be the best mommy and feel better than I have in years. Within 2 months in the business, I replaced my full time income as a Social Worker. I am so thankful for what this company has done for my family physically, mentally, and financially. "
Sam H.
"I drink 1 cup of Smart Coffee everyday! No lifestyle change! No gym membership! 100% believer!"

Energy with
no crash*

Improved
mental clarity*

Increased
focus*

Controlled
appetite*

Physically
alert*
How to use
Mix one scoop/stick with 4 to 8 ounces of hot or cold water. Stir until mixture is dissolved. Smart Coffee can be enjoyed one to two times per day, morning or afternoon. Begin to feel the effects from within!
Non-coffee drinkers: Begin with half a scoop and work up to 1 scoop/stick.
Add To Cart
Frequently answered questions
Smart Coffee has helped individuals experience ease in weight management, have more overall energy and improved mental focus. Please keep in mind, results vary from person to person.*
Smart Coffee is made with a collection of scientifically supported ingredients and nutrients to yield health and wellness results. Smart Coffee combines 11 bio-optimized ingredients to promote benefits such as an appetite curbing effect, a boost of energy and helping you stay focused.*
Smart Coffee can be enjoyed one to two times per day. Mix one Coffee scoop or stick (3g) with 4 to 8 ounces (120-240ml) of hot or cold water. Stir until mixture is dissolved. When taking Smart Coffee, we recommend to restrain from drinking alcohol, consuming food or drink containing caffeine, or taking any other stimulants.
Yes. You can enjoy one to two servings of our scientifically advanced smart products.
All of our products are manufactured following GMP (Good Manufacturing Practice) standards for dietary supplements.
Time and results may vary based on the individual. You may begin feeling increased physical and mental energy after only one serving. Other benefits, like ease in weight management, may be noticed over a longer period of time. Our Coffee may provide a combination of results but it depends on a person's body, lifestyle and diet.
Smart Coffee, along with all of our other products, are manufactured using state-of-the-art technology at reputable manufacturing facilities in the U.S., following the highest standards for product purity, safety and compliance.
Each serving of Smart Coffee contains a total of about 150mg of caffeine.