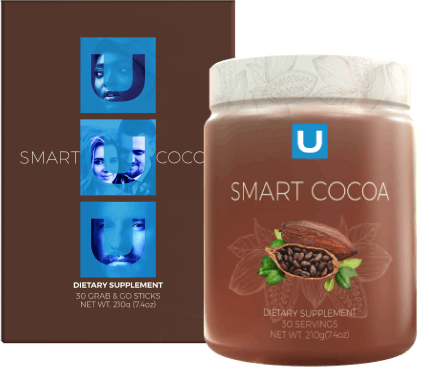 Smart Cocoa
Focus never tasted so sweet.
Smart Cocoa is a sweet treat that can help suppress your appetite, boost your energy and help you stay focused.*
Our new Scientifically Advanced Smart Cocoa launches December 1st!
Available for Pre-Order now, in the
Mocha for Holiday Bundle
Pre-Order

Energy with
no crash*

Improved
mental clarity*

Increased
focus*

Controlled
appetite*

Physically
alert*
How to use
Smart Cocoa can be enjoyed one to two times per day, morning or afternoon. Mix one scoop with 4 to 8 ounces of hot or cold water. Stir until mixture is dissolved, and begin to feel the effects from within!
Non-caffeinated beverage drinkers: Begin with half a scoop and work up to 1 scoop.