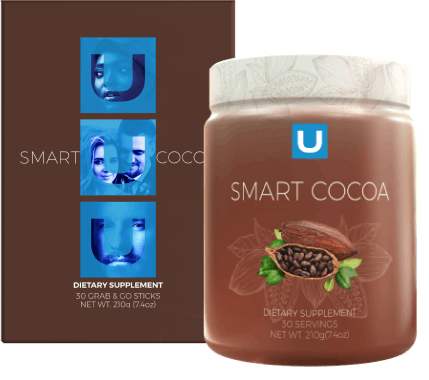 Smart Cocoa
Focus never tasted so sweet.
Smart Cocoa is a sweet treat that can help suppress your appetite, boost your energy and help you stay focused.*
Our ingredients are backed
by science.
Our Smart Cocoa holds an impressive amount of scientifically supported nutrients and ingredients.

Energy with
no crash*

Improved
mental clarity*

Increased
focus*

Controlled
appetite*

Physically
alert*
How to use
Smart Cocoa can be enjoyed one to two times per day, morning or afternoon. Mix one scoop with 4 to 8 ounces of hot or cold water. Stir until mixture is dissolved, and begin to feel the effects from within!
Non-caffeinated beverage drinkers: Begin with half a scoop and work up to 1 scoop.
Add To Cart
Frequently answered questions
By taking one serving of Smart Cocoa a day, you may begin experiencing a decrease in your appetite, increased energy and improved mental focus, among other benefits. Please note that results may vary from person to person.*
Smart Cocoa is made with a collection of scientifically supported ingredients and nutrients to yield health and wellness results. Smart Cocoa combines 11 bio-optimized ingredients to promote benefits such as appetite control, increased focus and mental clarity.*
We recommend taking it with or after your breakfast. Also, remember to drink plenty of water throughout the day to stay hydrated.
The FDA does not approve nutritional supplements. Our products' ingredients are specifically chosen for effectiveness, quality and purity, from reputable suppliers, that meet our standard of excellence. All of our ingredients are approved for sale by the governing bodies in the U.S., and are manufactured following GMP standards for dietary supplements.
Time and results may vary based on the individual. You may begin feeling increased energy and improved focus after only one serving. Other benefits, like ease in weight management, may be noticed over a longer period of time.*
Smart Cocoa may provide a combination of results but it depends on a person's body, lifestyle and diet.
Our products are manufactured using state-of-the art technology and at reputable manufacturing facilities, in the U.S., following the highest standards for product purity, safety and compliance.
Each serving of Smart Cocoa contains 100 milligrams of natural caffeine derived from green coffee beans, which is similar to the amount found in an 8-ounce cup of regular coffee. It contributes to the energizing effect of the product.*